July 27 was the anniversary of the date I started blogging. That was in 2013 and I built my first blog in about 15 minutes or so on Blogger. And there have been quite a few people like +Raj Mehta and +Soham Gokulgandhi that have come and gone depending on the purpose and project. Today, my focus is here and on The Gud1.
I still remember the morning of 20th July 2013 my ICT teacher(Information Communication and Technology, a subject I studied in my 10th Grade) introduced me to the world of Blogging.
Soon words of inspiration and likes from friends followed, inspiring me to work hard on my blog. I set up an action plan of updating an article every day.
In a short span of time likes and comments extended beyond my friend circle with eminent scholars and tech enthusiasts started on my blog. I also got invited to write guest reviews or paid posts from both India and abroad.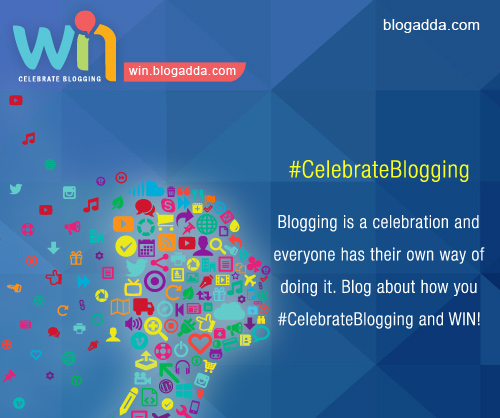 Image: BlogAdda
It is hard to believe that two years have passed and I am nearing the mark of 250 posts. This birthday is special for two reasons:
I am writing for #WIN15 – BlogAdda's Blog Awards on how to #CelebrateBlogging! You should too!
I'm planning on starting a YouTube channel. Complete with tech reviews, news or even Vlogs!
 Subscribe to my YouTube Channel… I'll be posting soon!
I have always been known as a "Techie" due to my numerous tech-based news or reviews published on my website. Although for the first 2 years my blog has been restricted to tech-based posts mainly but I am seriously considering other areas of non fiction writing such as travelogues, book blogging, my life…. And Much More… to come!
My Blog's achievement in the first 2 years:
250 posts.
100,000 + page views
100 + comments (excluding my comments)
Resolution for the coming years:
Write non-tech, covering topics like travel, popular science, food, social science, etc.
Connect more with the readers!
Enjoy blogging
The milestones I have mentioned above aren't necessarily huge milestones but as you go along your blogging journey, these milestones will get bigger and bigger. You may not expect to hit 10,000 subscribers, but it's definitely possible if you work hard enough…
Are you a Blogger who wants to get better at the art of Blogging?
Do intelligent interactions and discourse excite u?

Would you like to attend #WIN15 on 20th September with The Gud1?

Yes! Then visit here http://adda.at/WIN-WIN15
Every person who uses the below mentioned code to book a #WIN15 ticket, gets a whopping
15% Discount
on the Ticket.
Use this code to get 15% Discount: WIN151032
Please ask your friends to use this Access Code to buy the ticket and enjoy The Biggest Blogging Event,  #WIN15 on 20th September.
Here's the ticket link : http://adda.at/WIN-WIN15
See you at #WIN15 in aamchi Mumbai on 20th September!
If you're one of those who has been following me and my blogs "forever", give me a shoutout in the comments so I can say a "hi"!